The Ownership Thinking Team

Brad Hams, founder of Ownership Thinking, believed in eradicating entitlement. As a result, his company has helped hundreds of companies to diminish or defeat the entitlement mentality that is so pervasive and so devastating in our country and to replace it with cultures of earning - empowering employees to think and act like owners. He believed that human beings do not gain self esteem through unearned compensation, empty praise or false security, but rather through achievement.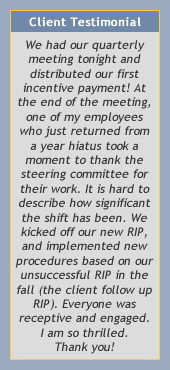 Brad, with the help of his extraordinary team, developed the Ownership Thinking model in the early '90s, during which time he was the president of Mrs. Fields Cookies in Mexico. Prior to this, he held executive positions in the area of finance and operations in a fortune 100 company. Brad was a lifelong student of business and finance, held a master's degree in Organizational Development and Human Resources, and taught business at the graduate level. He was a board member of the National Center for Employee Ownership, the country's leading resource on information and research related to broad based equity programs. In addition to his consulting work, Brad spread his mission and message by speaking to roughly 70 audiences a year, and he was one of the most sought after speakers for Vistage, the world's largest membership organization of CEOs. Brad Hams (1955-2014)
Carmen Garcia, Director at Ownership Thinking, has provided financial and business acumen training to the Hispanic community for over 20 years. Carmen grew up in Mexico City and holds a CPA from Universidad Nacional Autonoma de Mexico. She spent her early career as a CPA, and later was an internal auditor for several international companies. She also worked as a financial analyst for two of the five largest banks in Mexico. In the mid '90s she was part of the international operations team for Standard & Poor's in their TEC Center office.
Garrett Sullivan, Ownership Thinking's licensee for Hawaii, offers over 30 years of management experience in the construction industry - from Project Engineer to CEO. He is Founder and President of Sullivan Associates, Inc. (www.sullivanhi.com) and Past President of Kaikor Construction which he cofounded in 1985. Sullivan led the company to award-winning status and retired in 2010 to launch his consulting practice. He is the 2010 SBA Small Business Person of the Year for the city and county of Honolulu, Past President of the General Contractors Association of Hawaii (2010) and is active in the Construction Financial Management Association (CFMA) where he was Past President. Sullivan has successfully completed hundreds of civil, structural and building projects for the city, state and federal government across the Hawaiian Islands. Additionally, during his tenure the company has won numerous awards, such as Build Hawaii, AWA Project of the Year and local as well as national Safety Awards. Sullivan was born and raised in Cambridge, Massachusetts, and has lived in Hawaii since graduating for the University of Hawaii with a degree in Finance. In 1985, Sullivan earned a Master's in Business Administration from Chaminade University.

Partial Client List
(links to client sites are in yellow):
Construction
· Adarand Construction
· BSA Corporation
· Burton Scot
· Casey Industries, Inc.
· GMI Construction
· K.R. Swerdfeger, Inc.
· Kaikor Construction
· McCree General Contractors & Architects
· MGE Underground
· Orren Pickell Designers & Builders
· Reitter Stucco
· Sunland Asphalt
· Surianello General Concrete
· Tarco Construction
· The Motz Group
Distribution
· Autobody Jobbers Warehouse
· Aveda
· Birthday Express
· Century Resources
· Cycle Logistics
· Momentum Logistics
· Office Environments and Systems
· Onions, Etc.
· Caribbean Shipping Services, Inc.
· Chuck Latham Associates
· Coosemans Worldwide
· Drive Train Industries
· Independent Plastics, Inc.
· Mercedes Medical
· Pivot Interiors
· RJW Logistics
· Vanguard International
Engineering
· Chardon Laboratories, Inc.
· ESC Lab Sciences
· Eurasian Minerals
· Knudson Associates
· Jet Aviation Specialists
· JR Engineering
· La Macchia Group
· Lerch, Bates & Associates
· Phillips Partnership
· Rock Solid Images
· Sebago Technics
· Summit Laboratories
· The Turnaround Management Company
· Windmill International
Plumbing, AC, Electrical
· Anytyme, Inc.
· Chico Electric
· Contech Electronics, Inc.
· Ideal Plumbing & Electric
· Industrial Electric
· Mid-City Electric
· Pat Murphy Electric
· Progressive Plumbing
· Symbiont Service Corp
· Warm Floors
Financial and Insurance Services
· 1st Security Bank of Washington
· ABNAMRO
· Banc Financial Group
· Benefits Plans Plus
· Central Bank
· Charter Insurance
· Commerce National Bank
· Global Home Loans & Finance
· Hinds Financial Group
· Intermountain Mortgage Services
· Lighthouse Financial, LLC
· LSG Insurance
· Norlarco Credit Union
· Prospera Financial Services
· Universal Lending Corporation
Healthcare
· Affordable Quality Care
· American Health First
· AMR Pronurse
· Gambro Healthcare
· Illinois College of Optometry
· Spine Therapy Center
· Work and Well
· Pridemark Paramedic Services
· Work Options Group
Landscaping and Nursery
· American Landscape Design
· BestYard.Com
· California Landscape Contractors Assoc.
· IGL Landscape Services
· Lifescapes
· Morrefield Excavating
· Moss Landscaping
· Skagit Gardens
· Skinner Nurseries
Manufacturing
· Alcoa
· Almita Manufacturing
· Arrow Sheet Metal
· Blocktops
· Brian's Cabinets
· Fast Heat, Inc.
· Foldcraft Corporation
· Fortune Stone, Inc.
· Giant Snacks
· Interstate Threaded Products, Inc.
· Osborne Industries
· Sashco Sealants
· Seeds 2000
· Spillman Company
· Seymour Duncan
· Synthetic Industries
· Owens corning
Professional Services
· Summit Service Group
· 21st Century Marketing
· Alternate Collection Solutions
· Ann Lee & Associates
· ARGUS Holdings
· Best Upon Request
· Contrino Direct Marketing
· CRG Events
· Eden Advanced Pest Services
· Esparza Advertising
· Mackey Advisors
· Mayo Aviation
· Miles Brand
· Monroe News
· MVD Express
· SFO Shuttle Bus Company
· Star Fleet Yachts
· Strategic Feedback, Inc.
Retail & Restaurant
· Ace Hardware
· Aqua Quip
· Bicycle Village
· Bike Barn
· Builders Appliance Center
· California Closets
· Century Hospitality Group
· Colorado Bag n' Baggage
· Custom Comfort Mattresses
· Mud Bay
· The Radiant Group
· Total Beverage
· Vitamin Cottage
Technology
· Abacus Business Solutions
· Bconnected Software
· Connect: The Knowledge Network
· ERGOS Technology
· Novas
· Digitize, Inc.
· HCSS Software
· Hewlett Packard
· JD Edwards
· Portable Computer Systems
· Quark
· Sebago Techniques
· TravelNet Solutions