Ownership Thinking Book
Brad's book, Ownership Thinking: How to End Entitlement and Create a Culture of Accountability, Purpose, and Profit is available on Amazon.com and in major book stores across the country.
Click here to read brief description of book!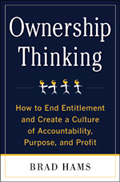 Click on one of the links below to purchase your hard copy!
Amazon
Barnes and Noble
Audio Version Available Online - Order Yours Now
5 CD Set - Retail price: $20.90
Includes $4.95 shipping & handling charge.
All shipments are sent USPS ground.
What People Are Saying
"Ownership Thinking takes on two of the biggest challenges in companies: lack of ownership, and lack of good thinking about the company. Hams' work is readable, thought-provoking, and makes you hungry for his next bit of wisdom. It's an excellent read, and should be on your short list."
Dave Logan, Ph.D., New York Times bestselling coauthor of Tribal Leadership and Three Laws of Performance
"You would have to read a dozen other books on employee compensation, empowerment, management, and motivation to even come close to Ownership Thinking-a systematic and practical process for getting your employees to give that extra effort and brain power we know they possess."
Verne Harnish, CEO, Gazelles, author, Mastering the Rockefeller Habits
"Brad Hams tells it like it truly is: transparency creates trust; trust creates engagement; engagement creates a healthy enterprise. This thoughtful and practical book shows you how to achieve all of these things and more."
Chip Conley, founder and executive chair, Joie de Vivre; author, PEAK
"Comprehensive and marvelously clear, Ownership Thinking's techniques for creating change are focused, direct, and motivating. This is a wise book, unusually useful and I recommend it most highly."
Judith M. Bardwick, Ph.D., author Danger in the Comfort Zone and the Psychological Recession
"Brad Hams is one of the most persuasive and creative thinkers I know. Unlike most books in this field, which are full of noble ambiguities and self-evident truths, but few practical ideas, this one will give you a specific guide you can (and should) implement now."
Corey Rosen, founder, National Center for Employee Ownership
"Having built 6 companies from scratch into national firms, along with coaching small to medium size companies over the past 15 years to become bigger and better, I say this: 'Brad, where were you all those years?'"
Jack Daly, CEO, Professional Sales Coach, Inc.
"Character is to an individual as culture is to an organization. They each represent the essential DNA for future success. Brad Hams has captured the keys to the best of both in Ownership Thinking. He is masterful at outlining the engagement practices that inspire people to care and to be deeply vested in business results."
Jim Haudan, CEO of Root Learning, author, The Art of Engagement
"Reading Hams' book is like a candid conversation with a wise friend about getting your employees more engaged in your company. It is a 'must read' for any manager in a company with employee stock ownership, or for any business leader wanting to create a culture of ownership."
Dean Schroeder, author, Ideas Are Free