Ownership Thinking offers a variety of ongoing services to insure that its clients continue to win in the marketplace:
Ownership Thinking Management System Refresher
Our refresher program will insure that your Ownership Thinking process remains fresh and up-to-date, and that momentum us maintained (or revitalized). The refresher consist of the following: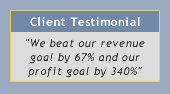 Update appraisal (employee survey and financial trend analysis)
On-location work:

Meet with management team and sit in on forecasting session
Review/update scoreboard and KPI's
Review/update incentive plan
Audit Rapid Improvement Plans and create new ones
Employee training session(s) for new employees and/or as a refresher
NOTE: This can be tailored specifically to your needs and charged on a daily rate
Financial Acumen Training
Our financial acumen training program, Money Matters™, can be delivered live or via web conference at any time. The program is tailored to fit your industry, organization, and specific operational and financial issues.
High Involvement Budgeting
Ownership Thinking can help you to build your budget in a high involvement fashion that everyone will "own." The process includes:
Work with sales and marketing team to create a realistic sales plan
Identification of resources required to match the sales plan
Tips for completion of the budget
Identification of contingencies that can be rolled out in the event the budget is not being met
Sales and Executive Compensation Programs
Ownership Thinking can assist you in the design of sales and executive compensation plans that will clearly align these roles with the short and long term financial and value objectives of the organization.